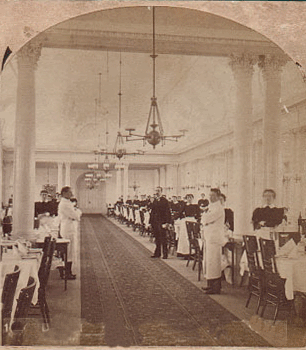 After a second wing was added in 1902, the main dining room was capable of serving 1700 guests at once. The Head Waiter had thirty-two assistants and five hundred waiters who served meals to from twenty-three hundred to twenty six hundred people three times a day. 150 cooks and an equal number of assistants worked in the kitchen. Guests looking for a more intimate meal could always have it at the Palm Grill.
This rare photo- taken shortly after the hotel opened- shows waitresses and other staff lining the center aisle of the dining room. The ladies are wearing dark shirtwaist dresses and full length aprons. This is one of a very few pictures of the hotel staff in existence.
A heavily retouched photograph of the dining as it looked when it opened in 1894. The main aisle where the staff is standing in the top photo is just past the arches at the right.
The picture is taken from a rare angle that almost gives a "diner's eye view" of the table. It includes lots of great detail; from the water carafe, glasses, napkins and condiment servers to the arrangement of the silver and design of the chairs. Click to enlarge.
The Hotel's print shop produced thousands of menus every day topped with an elegant engraving of the hotel logo.
A colored postcard gives a hint of a later color scheme. The arched doorway at the entrance found a second life as a garage door at a Palm Beach home after the hotel was demolished.
The dining room doubled as a ballroom when parties featuring upwards of two thousand guests couldn't be accommodated by the
octagonal ballroom
.